SuperThrift Outlet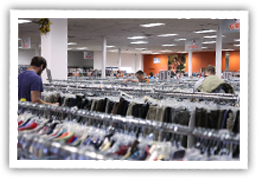 You haven't seen a thrift store until you've visited The Foundry SuperThrift Outlet! Our Fairfield location is hailed as Alabama's largest thrift store. This 100,000-square-foot facility located on 6550 Aaron Aronov Drive provides everything from household furniture and clothing to antiques and jewelry. Our Cullman SuperThrift Outlet in the South Cullman Shopping Center provides the same great merchandise and customer service.

What's the secret to our success? Quality products, low prices and attentive customer service. We want to help shoppers find what they are looking for, at prices they can afford.

Stop by when you need clothing for men, women and children, vintage and contemporary jewelry, dishes, knickknacks, clocks, lamps, books, baskets, small and large appliances, and much more. There's something new every day so come often!





Two locations:

Fairfield (Click for Directions)
6550 Aaron Aronov Drive
205-424-2400

Cullman (Click for Directions)
1636 2nd Avenue Southwest, South Cullman Shopping Center
256-255-0742



Help Stock Our Shelves

We believe God takes things others may see as useless and creates value in them. Do you have new or gently used items collecting dust in your house? Drop off your donation at either SuperThrift Outlet location, or call (205) 424-2400 in Fairfield, (256) 255-0742 in Cullman or email to schedule a pickup, and let us give them new life!